Do you want to advertise on Snapchat? Here's a breakdown of Snapchat advertising costs at each level of their ad platform.
1. SNAP ADS
Snap Ads is the newest available offering from Snapchat. These are mobile video ads. You can also add the choice of an interactive element to the ads. The swipe-up rate for Snap Ads is 5X higher than the average click-through rate for other comparable social platforms.
2. SPONSORED LENSES
Snapchat Sponsored Lenses are on the next tier of pricing for ads on the platform. The cost for Sponsored Lenses varies depending on the day of the week, holiday, trends, etc. A general rule of thumb for Snapchat Sponsored Lenses costs is this: $450,000 per day Sunday through Thursday, $500,000 for Fridays and Saturdays, and $700,000 plus for holidays or special events (like the Super Bowl).
3. NATIONWIDE SPONSORED GEOFILTER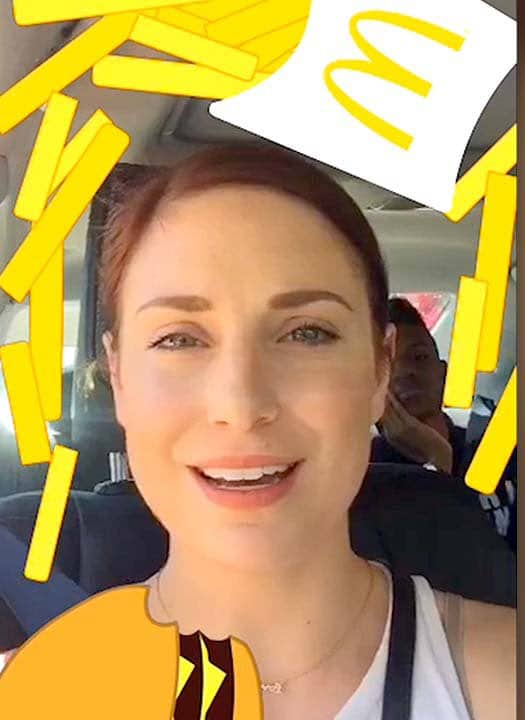 Nationwide Sponsored Geofilters are a new offering from Snapchat. McDonald's did the first one about a month ago. It is currently unknown exactly how much this ad offering costs, but our estimates peg the number at about a fifth of the cost of Sponsored Lenses.
4. SNAPCHAT DISCOVER
Snapchat Discover ads are the most expensive offering. Right now, Snapchat discover ads start at $50,000 daily. Snapchat Discover ads get premium placement (at the very top of the app), and are usually reserved for publishers or big brands. Snapchat recently said that Cosmo, one of its leading publishers, gets several million views per day on it's Snapchat Discover feed.
5. SNAP TO UNLOCK FILTERS
"Snap to Unlock" filters are one of Snapchat's newest ad offerings. Recently, Kendall Jenner partnered with Garage Magazine to create a Snap to Unlock filter. There was a code in a Garage Magazine issue that, when snapped, would unlock a special filter. Snap the image of it to see it in action.
6. SNAP TO UNLOCK CODES
"Snap to Unlock" ads are the latest in Snapchat's ad offering. That's our snapcode, the image will redirect you to our homepage when you snap it.
7. SPONSORED LOCAL GEOFILTERS
Sponsored Local Geofilters are the cheapest of all Snapchat ad offerings. The cost for Local Geofilters can be as little as $5. Snapchat recently inked a deal with Foursquare for their Geofilters, which will vastly improve their Geofilter data and we can expect new innovative features from Snapchat for local businesses.
8. SNAPCHAT INFLUENCER PARTNERSHIPS:
This is not an official form of Snapchat Advertising through the company, but it's a very effective ad format. Working with influencers to have them create content on your Snapchat account through a "Snapchat Takeover" works very well. You can also sponsor the snaps of influencers by way of product placements. Or you can get more blatant and hire an influencer for a series of Snapchat pictures and videos, promoting your brand. If you can get the right influencer with a targeted demographic following that matches that of your brand, it can be a great campaign.
9. SNAPISODES:
This is another unofficial form of Snapchat Advertising. It's also quite new. Closely related to influencer marketing, "Snapisodes" is a new take on creating high quality, episodic organic content on the platform. This content can be created by influencers, or by your own brand.
10. PROMOTED STORIES:
During Snapchat's quarterly earnings call on February 6, 2018, CSO Imran Khan announced that a new ad format, Promoted Stories, will be available to all advertisers in the coming weeks. We will update you further when we learn more.