The top 5 achievable SERP elements in google every brand should leverage:
Rich Sitelinks
Google My Business
Review stars
Images
Videos
Q. What are SERP elements?
Search engine result pages i.e. SERP are the result pages which are displayed by various search engines upon processing a user query. This is the page you see after you initiate a keyword search on google. While earlier search engines would display a list of anchor tags as their SERP, things have progressed and now we receive a wide array of elements in the SERP for making the web a more accessible space for users and advertisers. You will get a better understanding of these elements as you read through the article. These rich elements are the focus of seo professionals in today's competitive environment.
Q. How can brands affect the SERP elements?
Ans. Google provides various tools and practices which affect the way it displays information to its users. Brands can take advantage of these by following google's best practices and adding data which makes it easier for google to understand their data.
1. Rich Sitelinks
With them, your brand looks like it should be taken seriously. Getting this element is the absolute minimum (and the first thing to aim for). As things stand right now, there are no rules or tactics that will specifically get you rich sitelinks. Google doesn't tell you how to create rich sitelinks or control their appearance directly. But it basically comes down to correctly organizing your site so that Google has something meaningful to show.
2. Google My Business Profile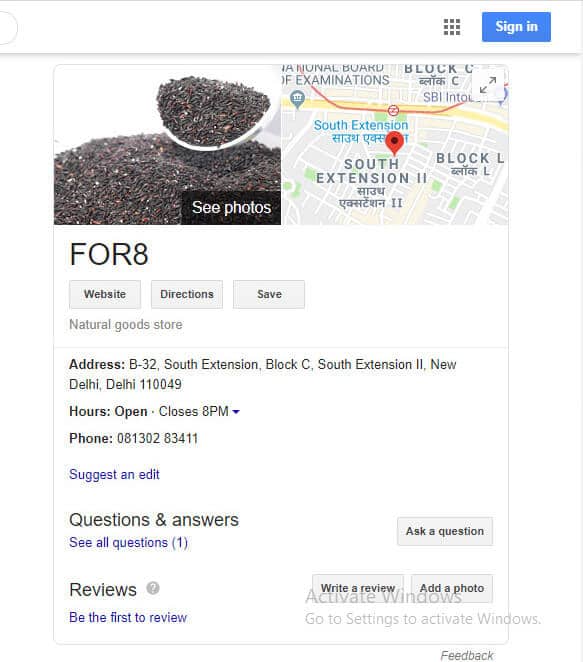 This option is an easy element to control and optimize. Claim your business, update all the information that you can including opening hours, photos, telephone, description, the area served, category, and website, and also add common customer questions with a clear answer for each.
3. Review Stars
Having review stars appear on your brand SERP requires that you have sufficient reviews (hopefully, positive) on a platform that ranks well on Google. Use SEMrush (or another tool of your choice) to check which ones have the most organic presence in your country and your market — check the leading review platforms in your country, but also the review platforms that rank for your competitors. Choose one or two (above that and you are likely to dilute the effect) and encourage your clients to give reviews on those platforms.
4. Images

A row of attractive images will add immense sexiness to a brand SERP. Obtaining them is far from easy. It requires:
That your brand is image-friendly (so things like ice cream and clothing are good candidates, while SaaS companies could have a harder time).
That you have a wide range of quality images on your site, but also on other sites, and that they are well-optimized for image search.
If you fulfill the first requirement, then to get images in your brand SERP, you should ensure that the images on your site are not just optimized, but also driving impressions (and clicks). Also, make sure you are helping your partners with their optimization strategies for the branded images of yours that they display on their sites.
5. Videos
Google typically shows videos from YouTube and Facebook. In my experience, YouTube is vastly dominant. Surprisingly the reason is not so much that it is a Google platform (although that arguably plays a rôle), but more because YouTube has good SEO.
Getting traffic for a new business is always a struggle but SEO provides key tactics for businesses to be efficient with their resources (i.e. time and money), out perform market competition and take lead.
Do share your own experiences with seo and rich elements for google.
Q. Do you think their practices are fair?
Q. Did higher ranking have a real impact on your business?
As always thanks for you time and attention